'Tis the season to be jolly! This time of year is thrilling, full of wonder and anticipation. There is so much joy for a child in the weeks leading up to the holidays. Why not capture that excitement in dance class and convert it into extra focus and participation by your students?
Below are a few ideas to add some holiday cheer into your studios! I'd like to thank my fellow dance instructors and peers out there who have shared some of these ideas with me throughout my career. It takes a village, and I do not claim to have personally fashioned all of these ideas myself!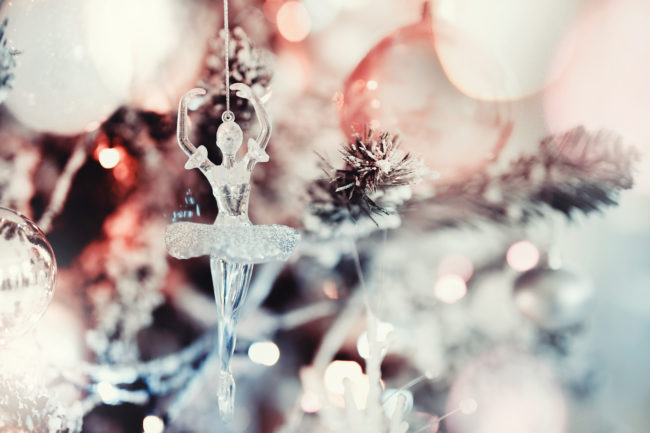 Jazz up the ole Playlist
Spotify to the rescue! *This is not a sponsored post… I just really believe it's a truly great teaching resource! Having an account for yourself and/or your studio is just as pivotal as pivotal gets, in my opinion. First of all, other folks have already done a ton of work for you. There are so many holiday music playlists already created. Whip through them for inspiration and create your own curated playlists. Shameless Plug Alert! Become one of our Concierge To Go clients at the beginning of January when our curtain is open and we'll share our Preschool Ballet and Tap Holiday Playlist with you!
I personally have separate holiday playlists for various classes, based on genre and age. For instance, a glance at my Senior Lyrical list displays "Snow" by Sleeping at Last. My elementary aged holiday tap list boasts "Run Run Rudolph" by Kelly Clarkson. Take a swing by any of my holiday ballet playlists and you'll see the ever-popular Christmas album by Lisa Harris. The possibilities are endless, and you should be playing at least a few (if not all) cheerful seasonal songs in your classes during December!
Golden Book of "The Nutcracker"
All ballet dancers out there, let's share in our collective sigh in 3.2.1… Sharing the story of The Nutcracker is without a doubt one of my favorite parts of being a ballet instructor. It's a classic after-all! One great way to tell the story is through the Golden Book version of the ballet.
Every December, I pick which week will be my Nutcracker week. I tell the story to each and every one of my classes, molding and shaping the presentation to be age-appropriate. With a few YouTube clicks, I curate 5-6 (short) scenes that I want to share with my students that correlates to the Golden Book story. Those links stay open on my iPad in separate tabs. I gather the kids around, usually on a fun and festive blanket to read the book; however, since this is dance class I like to keep them moving throughout the story! I'll read a few pages and stop to share the YouTube link when one of my pre-selected scenes arises. After pausing the story-telling to view that scene online, we'll hop up and act out that scene ourselves around the studio room to the track. I love watching the little ones interpret snowflake-like movements vs sharp, staccato Spanish Chocolate movements. Throw in a few props like foam snowflakes shapes or an actual Nutcracker doll for the party scene and you're golden! (See what I did there?!)
Pop-Up Tinsel Christmas Tree
The classic song "Rockin' Around the Christmas Tree" simply begs for a collapsible, pop-up tinsel Christmas Tree! Grab one on Amazon for your studio and let all of your teachers share it. You'll be able to use this for years to come, and the kids will love doing a silly tap dance in a circle around the Christmas Tree. I've seen them online for as low as $21 for a 5'0" tree! This makes for a great circle dance that you can use as a teaching tool for circle formation rules and "how to" tips.
Holiday Dress-Up Day or Christmas Jammies Day
Some parents may be exhausted by all of the holiday "hoopla," butttt we know your students would love to have a dress-code free day at dance. Why not host a Holiday Dress-Up Day or a Christmas Jammies Day? Be sure to promote it on social media and send notes home the week before as a reminder. I've heard of studios having an "outrageous costume winner" for the kids that really get into the activity and go all out! One tip for those tired mamas I mentioned earlier though… Be sure to have a box on hand with extra tinsel, holiday bows, reindeer antlers, Christmas socks, etc… You never want someone to feel left out, even if they show up in regular dance clothes!
Live Presents Dance
If you have a few cardboard boxes hanging around from all of those costume orders that are starting to roll in (deep breaths, friends… deep deep breaths), wrap and decorate five sides of the cube, leaving one side open. Let your dancers crawl under the box for a fun entrance to a silly in-class dance that serves as a great review for the vocabulary you've been working on this semester. Kids will giggle like crazy while popping out of the box at the beginning of a song! Another teaching moment here is to explain what a canon is. Assign them fun holiday names like the each of the reindeer names, or ornament/lights/mistletoe. When you call their name, that's their cue to pop out from under the box and make their way with a traveling step to their spots. Make sure you have enough for the amount of your biggest classes, or at least make sure that the boxes are big enough for more than one child to fit in.
Pass the Hot Chocolate
Instead of doing a seated Hot Potato release activity this month, try a "Hot Chocolate" version. The next time you're in Starbucks, ask for a small sized extra cup (with obviously nothing in it). The kids can use this to pass around the circle instead of a beanbag, anticipating for you to stop the music. The holiday album "Polar Express" has a really fun Hot Chocolate song that works perfectly for this activity!
Jingle Bells
Your itty-bitty babies will love this ballet game. Grab a pipe-cleaner and thread 3-4 bells on it, creating a jingle bell bracelet. These are excellent for both a sweet and effective rhythm activity in ballet class to this popular Christmas song!
Dance Studio's Elf on the Shelf
Those adorable toys that have swept the nation can be very useful in your dance classes! If you have a particularly challenging group on the behavior front, utilize this trick for all it's worth! 😉 Having a studio-wide Elf on the Shelf could help promote good choices in dance class. Follow up with a fun elf-themed treat for the end of class like an elf stamp, some light glitter powder for the back of their hand (call it "Elf Dust"), or a set of Santa's elf stickers.
Reindeer Ballet Leaps
Lastly, a stuffed reindeer would be a fabulous addition to the leaps portion of your ballet class. Go ahead and give him a name like Dasher, Dancer, or Prancer and explain that our leaps have to be super high in the sky over him, just like the reindeers that carry Santa through wintry Christmas Eves! Circling back to point #1, we all know there's a famous song that should be used here… "Then how the students loved you, as they shouted out with glee! The very best teacher ever, you'll go down in history!!!!"
Happy Holidays from Studio To Go!
Cheers-Lauren