We've all been there. That moment where it dawns on you and you wonder, "How am I going to get through the next hour?" Maybe it's because you're a brand new teacher, or maybe it's because you have a splitting headache. Chances are you might be here not because you have those thoughts, but you wonder what it is that your staff is doing in their classes. Are your students getting the dance education that you expect and demand?
Well, luckily, that's why we're here. In essence we created Studio To Go to take the doubt out of dance education.  Much like you order food To Go when you've had a rough day, are in a hurry, or don't feel like cooking.  Our syllabi are packaged up for you and ready to implement, whether you're looking for a cohesive syllabus for all of your staff, you are a new teacher who needs a little help with creative content and classroom management, or whether you're simply looking to spice up your classes and add some fun to your repertoire. If any of these sound like you, we've got your back.
We're a team of friends, dancers, and entrepreneurs who teamed up to create a pretty bad@ss product. Just like you, we're dance educators. We've dedicated our lives to this. We're passionate about the same things you are. We've not only walked in your shoes, we've danced in them.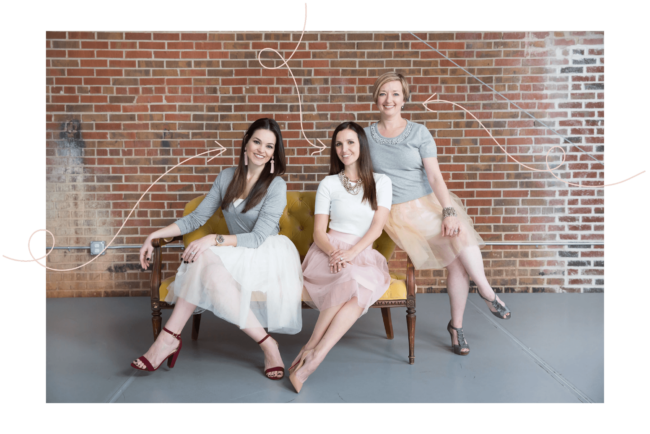 We have sort of a six degrees of Kevin Bacon thing going on. Our lives and paths have crossed and divided and crossed again, and we've found ourselves at a wonderful intersection. A couple of years ago we all found ourselves working together again. The school year after that we implemented a monthly progressive syllabus for our classes. Instantly, we noticed a shift in the quality of our classes.
Not only were our teachers solid and their class content polished, but now we had a cohesive front and all students were on the same page. Communicating with parents became easier, expectations for our dancers became more well-defined, and our end product (recitals) became better. Overall, we overwhelmingly thought, "We're onto something here."
And here we are. Ready to share this research, hard work, and awesomeness with you. Most of all, we want for dancers everywhere to get an awesome dance education. It's what we love! Secondly, we want to get to know you and we want you to know us. Seriously, y'all. Who else understands dance life other than dancers? We're all in this together.
Cheers-Leah